Over the course of the years at WBA we have supported individuals and the wider company in pursuit of continued learning in a number of topics including Fire safety, Sustainability & Principal designer training. Alongside this during their time in practice staff are required to obtain professional accreditations including RIBA, ARB, MCIAT and APM. This continued learning is critical in the current environment of legislative change and continuous discussions about Environmental requirements and Fire Safety in relation to professional competencies.
In tandem with continued learning we pride ourselves on training the next generation. On the back of this, we thought we'd take the chance to sit down with some of our more recent 'Graduates' Daniel who qualified in 2019, and Cath fresh off the back of Part III success in December 2021. We spoke about the process, advice they'd offer, and also some of the challenges in reaching this milestone over the last year. Here's what Cath in the Leeds studio had to say…
'After training and studying for 11 years , undertaking Part III in the face of a pandemic has had some unique challenges. COVID-19 has meant changes across the industry to the way we work due to periods at home, whilst study has meant accessing content and materials online and virtually. Whilst this has meant I had to adapt in an industry based upon interpersonal conversations and relationships. This has also changed how my practice provided support in gaining on-site experience ensuring I hit the required criteria. I've also been studying during a critical shift in the industry in regard to Fire and Environmental legislation and changes in Architectural education. These developments have filtered into day-to-day life and made it an exciting time in discourse to qualify.
 I studied for my Part I and Part II courses full time whilst undertaking placements in the years between , and I think the shift between balancing work and study has been my most acute challenge to date. The last 6 months of Part III in particular can be become very intense, and keeping organised, and focused is a critical skill in itself. One piece of advice would be to collate information for your Case Study submission early; set out the framework for your submission and focus in a particular area to critically analyse and discuss. Keep putting pen to paper and rework your content, as the study is a learning exercise in itself. Thankfully I have colleagues and a study group who were able to review and provide vital resource in fine-tuning this. Should you be taking the written examination route I can't state strongly enough the need to practice past papers. There are a number of issues you'll find in these that you may not necessarily have come across in your day-to-day work. This is due to the nature and scope of the profession, and becoming familiar with these will put you in good stead in developing your working knowledge.
 The key thing I'd take away from Qualification, is that you're not meant to know everything, rather where to look,  or who to ask. I'm looking forward now to consolidating my knowledge base and I'm excited for this next chapter in the role I've trained for. On top of practice work and developing relationships across the industry, I look forward to assisting other students looking to pursue a career in Architecture.'
Daniel in our Loughborough studio qualified in 2019, and has worked in practice full time since his Part I Placement, providing a different perspective.
' I've worked in practice since undertaking my Part I placement with Watson Batty following my Undergraduate studies. This meant I undertook my Masters part time over 3 years, preparing me for Part III, in regards to the management of time with working and academic commitments. There were both challenges and benefits in this approach. Critically, this taught me to be highly efficient.  Similarly to Cath my Part III consisted of submissions of the PEDR, Personal Development appraisal, Case Study and final exams. Additionally though, throughout the year a number of scenarios were released to prepare us for the final examinations which provided issues faced in practice around appointments, procurement and contract choice. This enabled me to relate these scenarios to my own experience in practice and felt like the development of my working understanding.
 A critique in qualification is the consolidation of the Part III content into your 'final year' of Architectural education. The spread of knowledge in Procurement routes, Contract types, and Professional practice scenarios is vast. It would be good to filter this further into the earlier years of education at Part 01 & 02, rather than testing this knowledge base at the end of this process. This would benefit both practices and students alike. 
 Following the success of Part III I have enjoyed developing my role within the practice as both an Architect and shaping the practices approach to Sustainability. Having undertaken my Undergraduate degree in Architectural and Environmental Design, since qualification I have enjoyed circling back to this area of focus. Across the practice I act as the Sustainability lead alongside Richard Crowson, in implementing targets in relation to the RIBA Climate Challenge 2030. As a professional in the industry I believe we have a responsibility to be environmentally conscious and pro-active, with the built environment having a major impact on Sustainability targets moving forward.'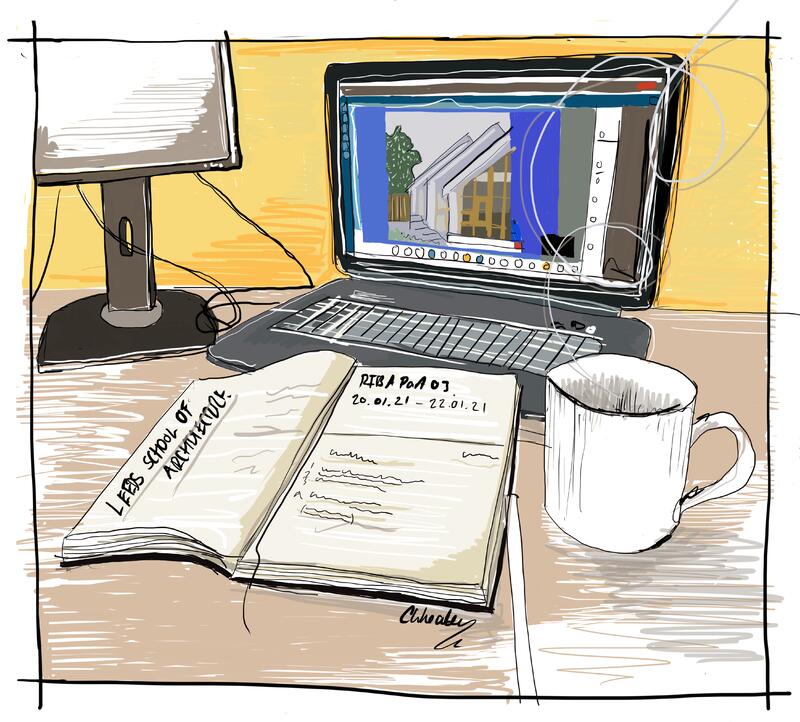 '